High Standards, High Impact
An indicator of journal quality is the Impact Factor, which uses article citations to measure the relative importance of a journal within its field:
The eight AACR journals ranked in the top 30 percent in the oncology category in 2015 — led by Cancer Discovery, Cancer Research, and Clinical Cancer Research, which ranked in the top 6 percent.
With an Impact Factor of 19.453, Cancer Discovery ranked fifth out of 211 oncology journals.
Cancer Research continued to be the most frequently cited cancer journal in the world in 2015. Clinical Cancer Research ranked third among all oncology journals for number of citations.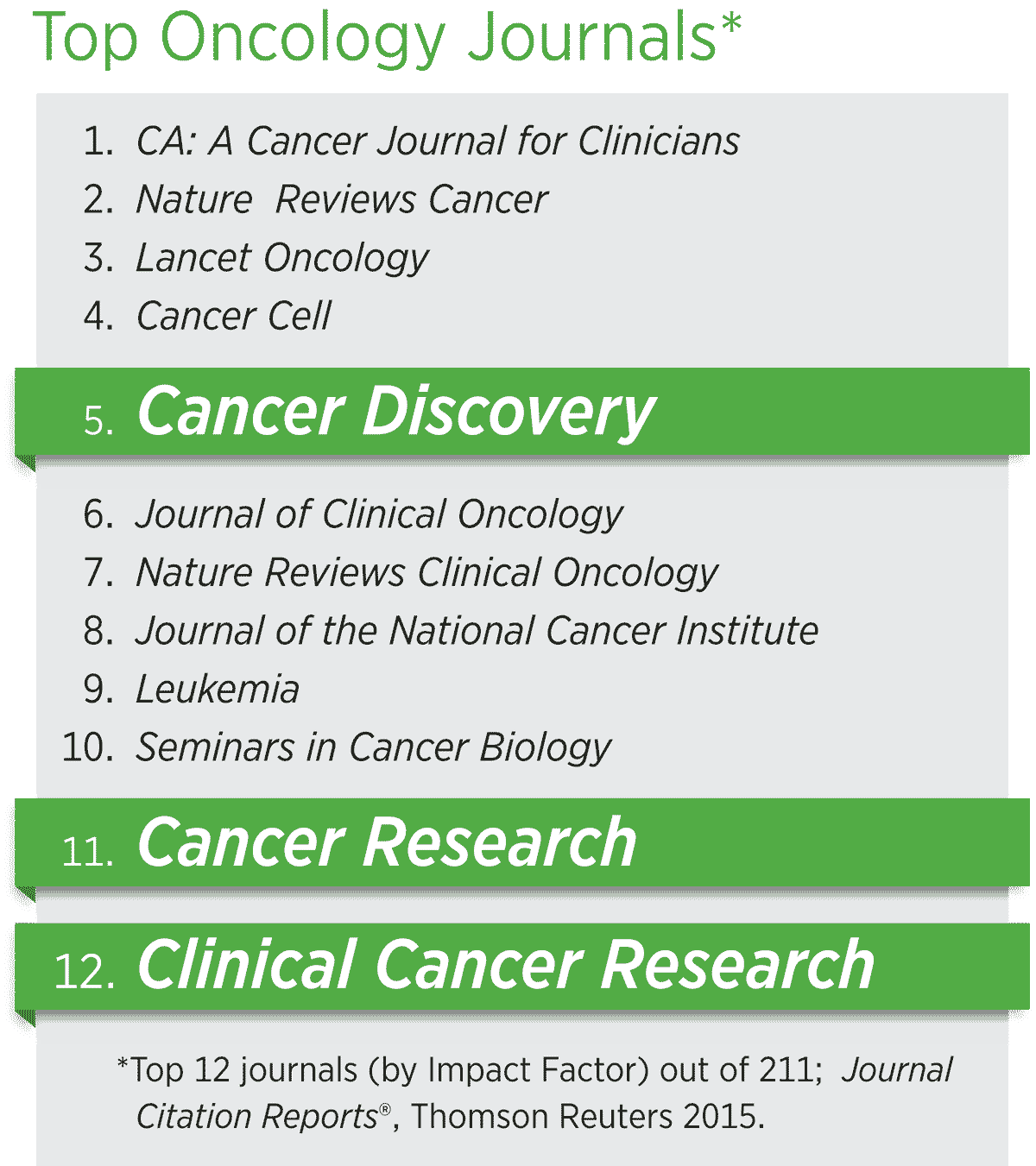 Major Milestones in a Proud Publishing Tradition
The number of articles published in Cancer Research, the longest-running AACR journal, surpassed 50,000 in 2015. In 2016, the journal will celebrate its 75th anniversary.
Clinical Cancer Research marked its 20th year of publication in 2015. Since its launch in 1995, the journal has provided a vital publication outlet for high-impact translational and clinical research, helping to transform molecular and cellular insights into clinical interventions to benefit patients.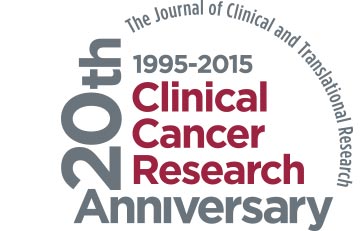 Defining the Frontiers of Cancer Science
Since its launch in 2001, Molecular Cancer Therapeutics has been a source of cutting-edge research in the area of small-molecule therapeutics. The journal recently identified large-molecule therapeutics as an emerging area in the field, and the new category has attracted a growing number of high-quality research articles.
Molecular Cancer Research curated special collections of significant journal content in 2015, highlighting critical areas such as the Ras pathway, chromatin regulation, and cell cycle and senescence.
Cancer Prevention Research supported the emerging field of cancer immunoprevention in 2015, commissioning a series of invited articles on the subject and expanding its scope to accommodate an increasing number of proffered articles.
New Editorial Leadership
In September 2015, the AACR appointed Robert D. Schreiber, PhD, and Philip D. Greenberg, MD (below), as the new editors-in-chief of Cancer Immunology Research. Launched in 2013 under the leadership of Founding Editor Glenn Dranoff, MD (right), the journal disseminates advances in cancer immunology and immunotherapies that span the spectrum of science and medicine.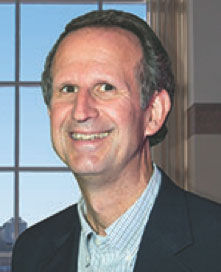 Capturing the Interest of the Public Worldwide
As a forum for research on cancer etiology, prevention, and survivorship, Cancer Epidemiology, Biomarkers & Prevention (CEBP) continues to receive significant media attention. In 2015, the AACR issued 20 news releases featuring articles published in CEBP, generating approximately 3,200 media clips from major national and international media outlets, local news outlets, and cancer and medical trade publications.